In the first half of the 19th century, Minsk had two Jewish cemeteries.
One was closed to burials in 1851. In the 1920s, it was destroyed by the Communists and the campus of the Belorussian State University was built on its grounds.
The other Jewish cemetery was closed to burials in 1898. In 1934, this cemetery was also destroyed and replaced by the "Dinamo" stadium.
In 1867, the Jewish residents of Minsk appealed to the governor with a request to purchase land for a new Jewish cemetery. A year later, the request was granted.
By the end of the 19th century, this cemetery was filled to capacity. In December 1900, the Jewish community purchased an additional site, on Sukhaya Street, to expand the cemetery.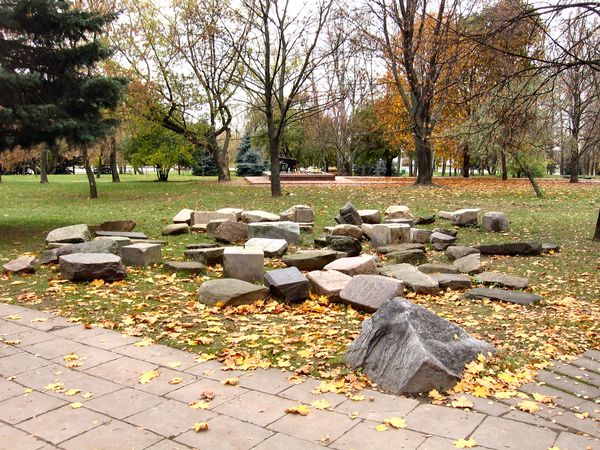 Current state of jewish cemetery in Minsk
During World War II, some Minsk ghetto residents were murdered in that cemetery.
In 1951, the Minsk town government closed the cemetery to new burials and, in 1972, announced in the newspapers that the site would be replaced by new construction.
Some people whose relatives were buried there were able to move the graves to other cemeteries in Minsk, but there were many graves whose relatives had already immigrated and were not there to re-bury them elewhere.
By 1990, most of the cemetery was destroyed and new administration buildings were built, but there remained a small corner of the cemetery. There were plans to build, on that site, an open summer cinema and dance pavilion but – thanks to the intervention of various world Jewish organizations – those plans were stopped.
Later on, unfortunately, the remaining corner of the cemetery was destroyed, and replaced by a small city park. Some 30 gravestones survived. They were collected and moved to the memorials for Jews from Eastern and Western Europe who were killed in the Minsk ghetto.
Listed below is the 1901 list of 45 donors from the Minsk Jewish community who had each donated more than 100 rubles for the new Minsk Jewish cemetery. At the time, the price of an average house in the city was about 300-400 rubles.