In the Russian Empire of the 19th century, day schools (called cheder) were very common for Jewish boys.
Students were divided into three age groups. From ages 3-5, the youngest boys learned the Hebrew alphabet and reading skills. From ages 5-8, they were already learning Torah with Rashi commentary and beginning to learn Talmud. Those ages 8-13 were learning Talmud in depth.
Classes began early in the morning and finished around 7-8pm. Upon completion of cheder, the graduates could enter a yeshiva for further education, but not many students did that.
Cheder teachers were called melamed, and each melamed had to obtain a state teaching license to run the cheder and collect tuition from the parents. A cheder was not allowed to enroll more than 40 students per school year.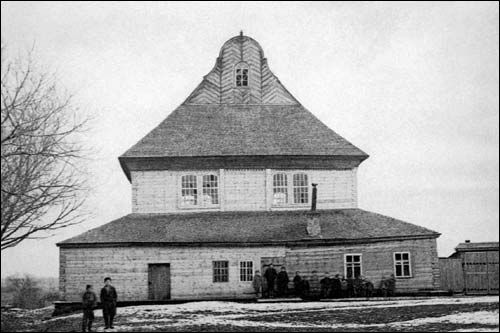 Building of Synagogue in shtetl Mstislavl mid 19th century
Below is the list of the melameds of Mstislavl uezd who, in 1876, had obtained their teaching licenses.
The list includes melameds from the following shtetls: MSTISLAVL, KAZIMIROVA SLOBODA, KHISLAVICHI, MONASTYRSHCHINA, KLIMOVICHY, CHAUSY, CHERIKOV.
Due to limited space, we cannot include the physical description of each melamed or copies of their licenses.